Our trusted experience, combined with the quality and reliability of our integrated video systems, help us meet the existing and emerging video surveillance needs of business customers throughout Kentucky.
Request A Security Assessment >
Video Surveillance Solutions for Business
At Modern Systems Inc., we provide businesses with next level video surveillance solutions: IP cameras, license plate recognition, day/night capability, nighttime color cameras, video management systems, and cloud hosted services. We offer complete systems that fit every budget for virtually any installation, in almost any business segment: corrections, retail, airport, manufacturing, mobile, financial, education applications and more. 
We know that a trustworthy partnership is a prerequisite to a mutually beneficial business relationship. That's what we offer to our video surveillance customers in and all across Kentucky. 
Benefits of Our Video Surveillance Systems:
Daytime & Nighttime Capabilities

Day or night, in any weather, our cameras have the ability to deliver high definition video for optimal performance.

View Live Video Anywhere, Anytime

You can view your cameras live from your smartphone, computer or tablet, from anywhere you have an internet connection. 

Motion Activated

Should you have an incident, you don't have to view hours of video. We have motion-triggered cameras that only record when activity is captured.
Video Analytics

Email and text notifications can be provided, along with line crossing, license plate identification, people counting, human body temperature detection, and more.
Next Level Commercial Security
For four decades, we have been on the cutting edge of new security and safety technologies. Our current next-level services are a reflection of that. Choose from:
Google Reviews
Since 1979, Modern Systems has been delivering unmatched design of custom security and building automation solutions for homes and businesses across the state of Kentucky.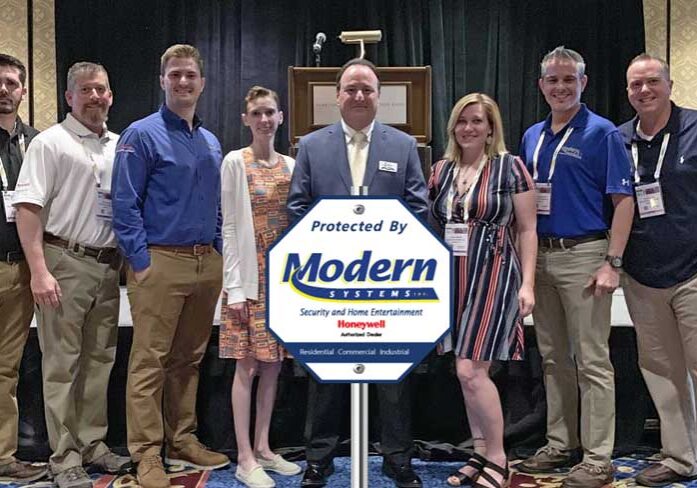 Get The Modern Newsletter
Stay current with local life safety news, product updates and special offers for your home and business!
(800) 252-7664

Schedule A Security Assessment Today.